University of California
Center for Forestry at UC Berkeley
Baker Forest
Located in the middle of Plumas National Forest, the U. C. Forestry Camp and Baker Forest provide a unique opportunity to study the biota, soils, and geology of the Feather River Country. The properties comprise 120 acres of mixed conifer forestland with a northern exposure. Vegetation is old-growth mixed conifer forest on 16 hectares (40 acres, The U.C. Forestry Camp), with cutover second-growth forest on the adjacent 32 hectares (80 acres, Baker Forest). The site is representative of highly productive forestland surrounding the Camp on the Plumas National Forest. Tall ponderosa and sugar pines tower over the area, with white fir, Douglas- fir, incense-cedar, and black oak intermixed in the dense forests. Several streams pass through the property.The well-drained soils are of the Cohasset series and are about 1.5 meters (5 feet) deep. The climate has summer temperatures often reaching over 38 C (100 F), and lows occasionally to -23 C (0 F). Rainfall averages 1,041 mm (41 inches) per year in Quincy although recent extremes show a low of 533 mm (21 inches) per year and a high of 1,981 mm (78 inches) per year. Approximately 1,900 mm (75 inches) of precipitation falls as snow each year.Baker Forest Research Station Dominant Usage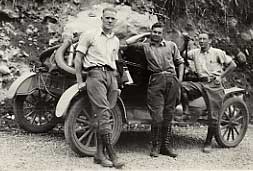 Summer Camp 1928 (1915 Ford)
U.C. Berkeley undergraduate and graduate instruction is the primary use for this facility, and most usage revolves around the 8-week summer camp forestry program. Opportunity for limited research exists, while an expanding program of "off-season" usage makes the facility popular for use by a wide variety of groups. Manipulation of the forest is limited due to the location of structures in this old- growth forest. Excellent roads open to Plumas National Forest and make both recreation and research available to the camp resident.
Summer Camp can accommodate over 100 people in its 5 dormitories, 4 cabins, numerous "tent frames", and large dining commons. In addition, there are three bathhouses, an office, a study hall, and a shop. Both domestic water and water for fire fighting are available in quantity. The facilities have a rustic appeal, and usage by outside groups or persons is encouraged. The arrangement of the housing, meeting and eating facilities make it ideal for groups interested in productive discussions or for nature study.
Since the facility is prized primarily for its teaching potential, all usage must fit in with this goal. In addition, the current ownership of the site by the U. S. Forest Service prohibits certain activities.